Overview
Email Opt Out is a standard Salesforce field that allows users to determine if contacts/leads are open to receiving marketing emails.

When using Email Campaigns or Flight Plans to send mass emails, Cirrus Insight will review the Email Opt Out field's value for every contact/lead by default. If the Email Opt Out field is checked, then Cirrus Insight won't send the mass email to that recipient (unless you've changed that setting per Part A below).
To make the most of the Email Opt Out field, we recommend following the Setup and Integration steps below.

Setup
Requirements: Salesforce and Cirrus Insight Admin permissions.
1. Add Email Opt Out to the Contact/Lead Page Layouts in Salesforce.
Salesforce explains how to edit your page layouts in either Classic or Lightning.
2. Make Email Opt Out visible to users in Salesforce.
Salesforce explains how to set field-level security for all profiles here.
3. Perform an org-wide refresh of Cirrus Insight.
Refer to this article for steps.
4. Add Email Opt Out to the layout in Cirrus Insight.
This quick video tutorial shows how to do that.

Integration
Here are some further ways you can customize or enhance the usage of Email Opt Out:
A. Change Email Campaigns opt out setting:
As mentioned, Cirrus Insight will prevent users from sending mass emails to opted-out recipients. However, for Email Campaigns, the Cirrus Insight Admin can change a setting to allow users to override that default behavior. This can be useful in situations where your team needs to send important information such as outage notices or account updates.
To change this setting, navigate to Organization Settings in the Dashboard, choose Email Campaign from the lefthand menu, and uncheck the box beside Exclude Opted Out Recipients.

If you change this setting, perform an org-wide refresh. Then, users will see this checkbox when creating Email Campaigns. To send emails to opted-out recipients, leave the box unchecked.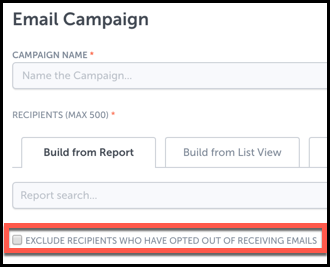 B. Add opt-out link to templates:
You can add an opt-out link to your mass emails to allow a recipient's Email Opt Out field to be checked via automation. If the recipient clicks the link and sends an email back to the Salesforce unsubscribe service, then the Email Opt Out field will be checked.
Your Salesforce Admin can install the Unsubscribe Opt-Out application by Salesforce Labs from the Salesforce AppExchange. Follow the set-up guide to create an unsubscribe link and add it to any email template.

C. Automatically stop Flights when recipients opt out:
You can use Salesforce's Process Builder to automatically stop Flights after a recipient's Email Opt Out field is checked. To learn how, review the Stop Flights section in this article.