Your Salesforce User ID is the most important piece of identifying information tied to your Cirrus Insight user account. To find your Salesforce User ID within Cirrus Insight, follow these steps:
1. Open Cirrus Insight Settings (wrench icon on the blue menu bar).

2. Choose Account Information from the menu on the left.

3. Locate your Salesforce User ID in the UserId field.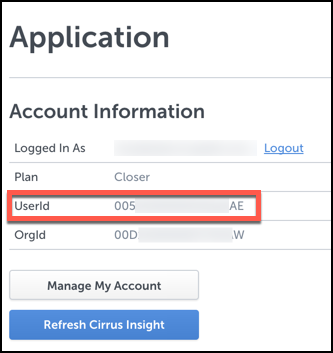 ---
If you're submitting the ID on behalf of another user or you can't access Cirrus Insight to get your own ID, you can also find Salesforce User IDs in Salesforce:
4. Perform a search in Salesforce for the affected user's name.

5. Navigate to the People section of the search results.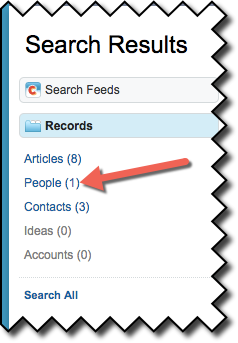 6. Click on the user's name.

7. From the User record, look at the URL in your browser. You can find the Salesforce User ID within that URL by looking for the 12-digit string of numbers that starts after "u=" and ends at "&". It will always being with "005".