Overview
To determine which Salesforce records were created by Cirrus Insight, your Salesforce Admin can create a custom "Created by Cirrus Insight" checkbox field. Cirrus Insight will automatically check the field's box if the record was created either manually from the side panel or automatically from a sync process. This is especially useful for reporting purposes.
The "Created by Cirrus Insight" field can be added to the following objects:
• Task
• Event
• Lead
• Contact
• Account
• Opportunity
• Case
Steps
1. Choose one of the above compatible objects and create a custom field. For a refresher, you can refer to Salesforce's guide on how to Create Custom Fields.
2. In the first step of the field creation, choose Checkbox as the field's data type.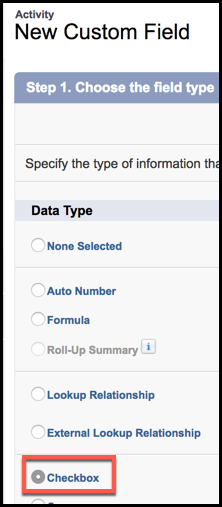 3. In the second step of the field creation, use the following values:
Field Label: Created by Cirrus Insight
Default Value: Unchecked
Field Name: Created_by_Cirrus_Insight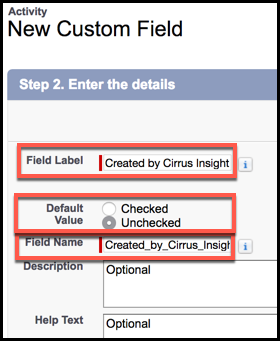 4. In the third step of the field creation, ensure Visible is checked and Read-Only is unchecked for all profiles.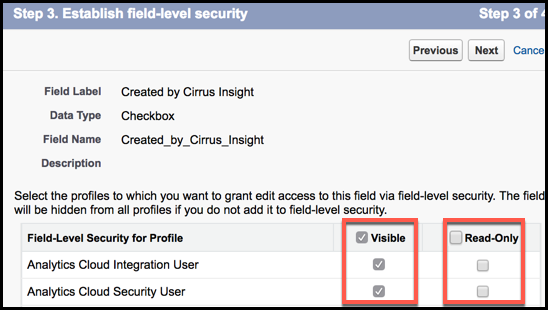 5. Although the field must be set to visible, you don't have to add it to any page layouts. In the final step of field creation, you can choose to add or not add the field to page layouts. Click Save when finished.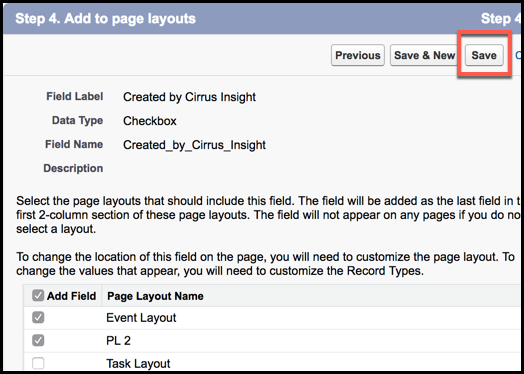 6. Follow the steps in the article, For Admins: How do I refresh Cirrus Insight for all my users?
---
For more robust reporting, install our free app Cirrus Insight Analytics. You can set it up using our guide, For Admins: How do I set up Cirrus Insight Analytics?
For more on information on how to utilize Cirrus Insight to boost Salesforce adoption, check out our post on How to Make Salesforce Adoption Effortless.