1. Click on the Wrench icon (Settings) at the top of your Cirrus Insight panel.

2. Click on Personal Scheduling Page from the Settings menu.

3. If the orange Get Custom Branding button is displayed, then your organization's Cirrus Insight plan does not currently support the Custom Branding of Personal Scheduling Pages. Please click the Show Me link to see the plan options that support it.
4. If your organization's Cirrus Insight plan supports Custom Branding, you will simply need to select the checkbox next to Custom Branding for Your Team to set it up for your users.

5. You can click the Upload a Logo button have your organization's logo displayed on your team member's Personal Scheduling Page.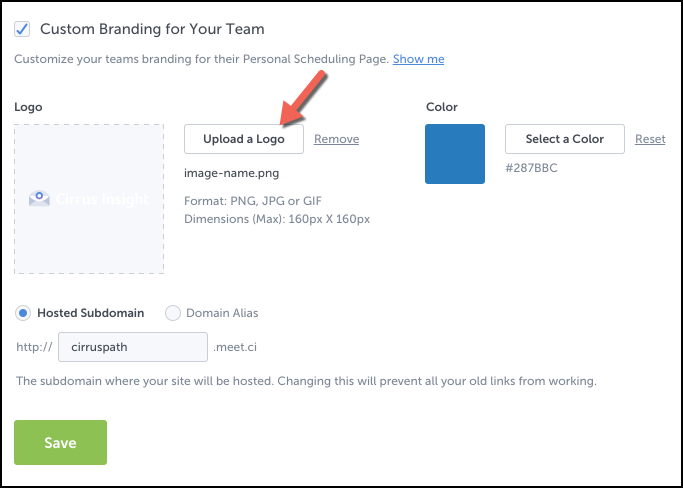 6. Click the Select a Color button to choose your brand color.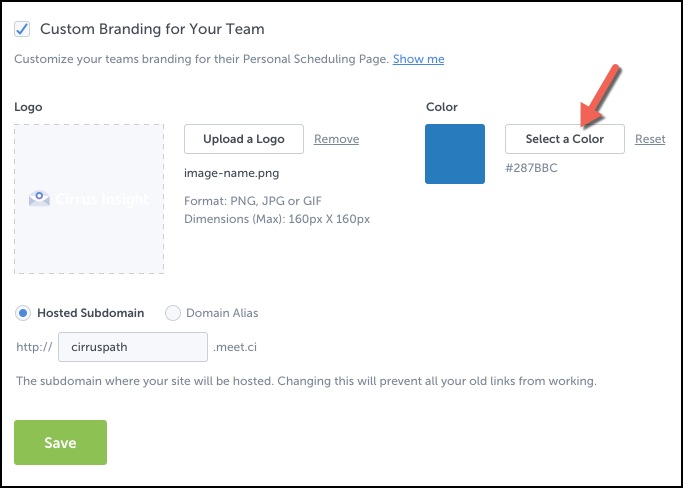 7. You can choose to have the page base URL as a hosted subdomain (i.e., http://yourbrand.meet.ci/username) or use a domain alias. 
If you'd like to use a hosted subdomain, click that option and then input the text for the subdomain where your site will be hosted. Click the Save button when completed.
Note: Altering this site in the future will prevent "old" links from working.
8. Alternatively, you can choose a domain alias (i.e., http://meet.brandname.com/username). 
If desired, select this option and enter the domain alias into the input field. Click the Save button when completed.
Note: If you select the Domain Alias option some minor changes are required to your domain DNS. The owner of the domain would need to add a CNAME DNS record for the "meet", pointing to meet.ci
* For information on adding the DNS record, please see our KB article describing the needed steps.