You can use Email Campaigns to send template-based emails to up to 500 recipients at a time. To create a Campaign, follow these steps:

1. From the left-side menu in Gmail, click the blue Campaign button (choose it from the mass email dropdown menu if necessary).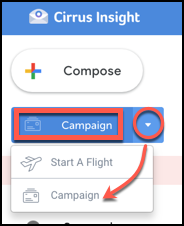 2. Type out a Campaign Name. Then, build your recipient list from a report, list view, CSV, or manual entry (see more information about each method below). To continue, click the green Choose Template button.

Build from Report

Search for a Salesforce report that includes the leads or contacts you want to email.

Build from List View

Choose whether you want to use a lead or a contact list view, and then select the list.
Use the Manage List Views button to work with your list views in Salesforce.

CSV Upload
Manual Entry

Type or paste email addresses separated by commas.

Note: Reports and list views must include email address, first name, and last name fields. They should use the Salesforce standard "Email" field (rather than a custom email field).
3. From the Templates selection screen, decide whether you want to use a Salesforce template or a Cirrus Insight template, or if you want to create a new template. To select a template for your Campaign, simply click on the template name.
Refer to the following key that explains the functions available on the Templates screen: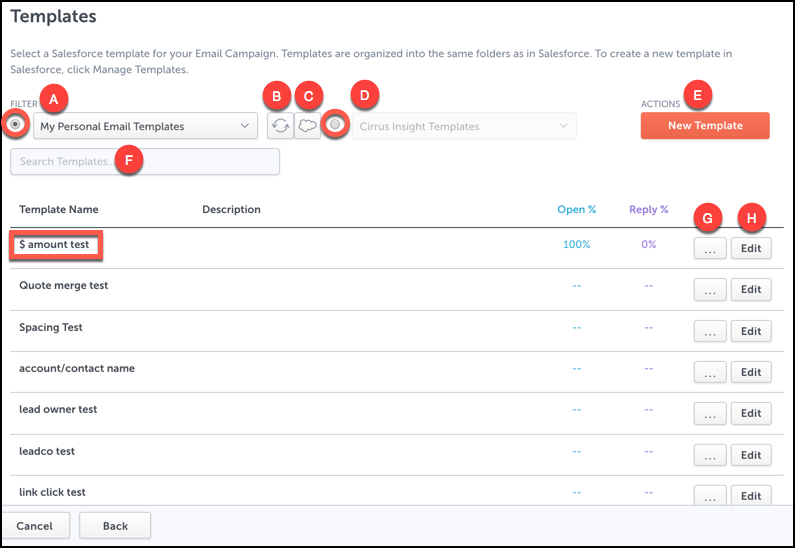 A: Choose a Salesforce template folder.
B: Refresh Salesforce templates.
C: Manage templates in Salesforce.
D: Choose a Cirrus Insight template folder (after clicking the radio button).
E: Create a new template (and save to either Salesforce or Cirrus Insight).
F: Search for a template by name (results are filtered based on your selection of either Salesforce templates or Cirrus Insight templates).
G: See a preview of the template.
H: Edit the template.
4. After selecting the template, double-check the preview before clicking Continue.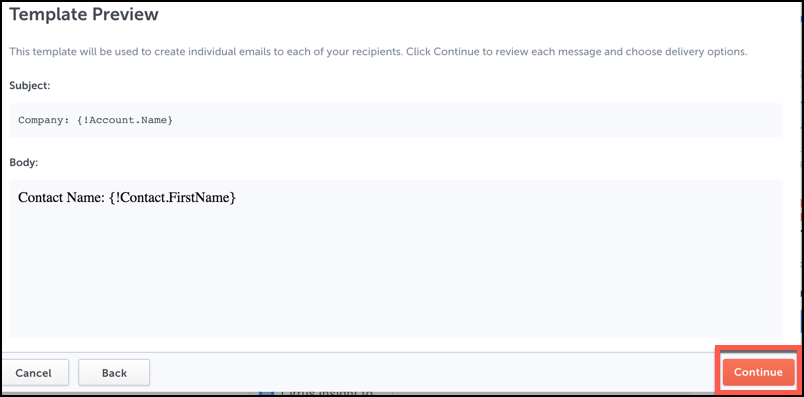 5. Cirrus Insight will then create drafts of all the emails you initiated by choosing recipients and a template in the previous steps.
Choose the Cirrus Insight features you want to enable (Add to Salesforce, Email Tracking, Send Later, and/or Follow-up). If needed, you can review the drafts and even send the emails one-by-one. If not, just select the Send All button.

Note: Cirrus Insight will automatically create a new Gmail label based on the name of your Campaign. Select the label from the left-side menu in Gmail to review all the emails tagged with that label.


| Reviewed Jan. 2020