Overview
With Automatic Logging enabled, any outbound emails you send to existing Salesforce leads/contacts will be automatically added to Salesforce (without you having to select the Add to Salesforce button).
Requirements
Before you can enable Automatic Logging, Email Sync must be disabled for your organization. Your Cirrus Insight Admin can disable Email Sync from the following URL:
https://dashboard.cirrusinsight.com/#/settings/organization/email

Also note, Automatic Logging purposefully avoids adding internal emails (that you send to email addresses from your own domain) to Salesforce.
Steps
1. From Outlook, open Cirrus Insight Settings.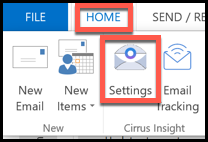 2. From Settings, choose Email Sync.
3. Below Add to Salesforce, check the box beside Automatically add emails I send to leads and contacts to Salesforce.

| Updated Aug. 2020