Overview
If you're an Office 365 user and encounter the error shown below, Add to Salesforce will not be able to log your email to Salesforce until Microsoft releases a fix.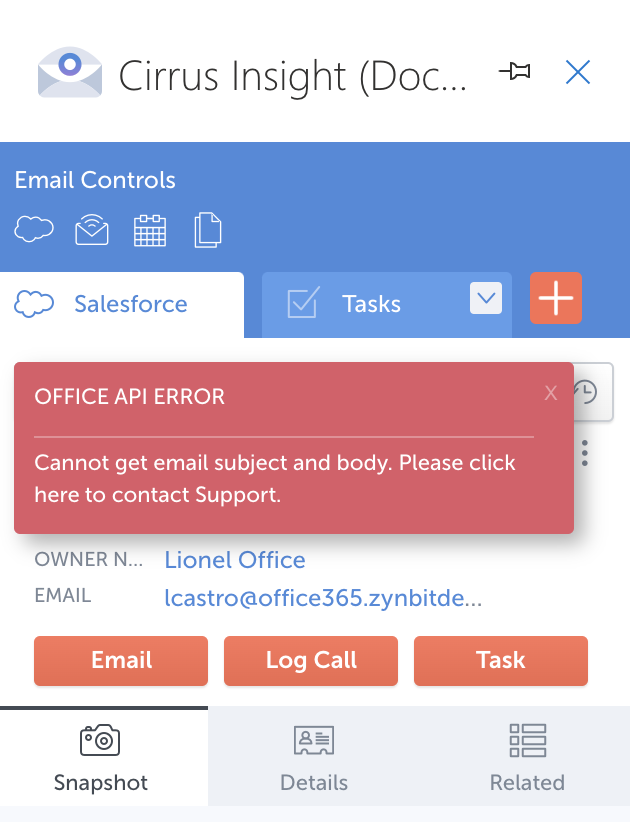 Office API error: Cannot get email subject and body.
This is a Microsoft issue that can occur if the Office.context.mailbox.item fails within Office 365's API.
Typically, the only users affected are those on the Outlook online web application (and not the desktop version of Outlook) that use Cirrus Insight for Office 365's Add to Salesforce feature.

Resolution
This situation happens infrequently, but it does require Microsoft to address the cause within Office 365. As a workaround, you can either:
Use the desktop version of Outlook rather than the web app.
Use Email Sync rather than Add to Salesforce.
If you encounter the error, reach out to Cirrus Insight support with a screenshot of the error. We'll generate a case to alert you as soon as we learn from Office 365 that the issue has been resolved.

Updated April 2022